ROTOVERT ROTORS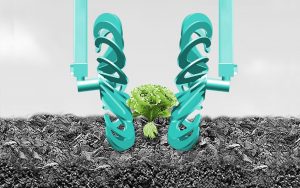 The Rotovert weeding system works directly on the transplanted row without damaging the root and leaf system, uprooting the weeds and thus reducing the need for chemical herbicides.
The system is composed by two opposed vertical Rotors, with curved hook-style blades, 3 cm wide that work over the row on the same parallelogram:
 -Vertically Positioned towards the plant;
-Minimum distance from the transplant line of 2 cm or more;
-They are inclinated in the direction to the plant;
-They begin to rotate by touching the soil, penetrating it up to 4 cm;
-The round form will never move the plant by touching its roots  or the pot;
-The hook-style blades push the soil one against the other (going in the middle of the row) breaking the crust and eliminating the germination of weeds; if presence of weeds, they will push  them away during the rotation.
-We can work 7 days after transplant and 10 days from sowing.
–Indicated for crop in 15-35 cm inter row distance i.e. salad, onions, garlic, carrots and more.