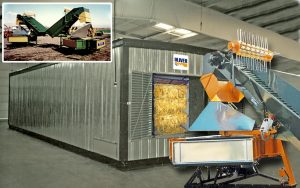 Combi is a machine specifically designed to speed up the packaging of tobacco leaves frames, used in drying ovens.
It can work outdoors directly on the tobacco plantations at the leaves collecting points or at the end of our Combinet and Jack MTM machines.
It allows to obtain an equitable distribution of the leaves in the frames, equalizing the weights and thus standardizing the drying, in the appropriate ovens.
Easily controlled, two people are enough to carry out the extraction of the frame loaded with leaves and a person for the complete management of the machine.