Bedformer machine – Mod. BXC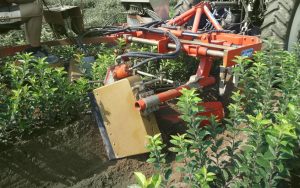 The Bedformer Mod. BXC  is an indispensable machine for the creation of the trunk's bed.
Allows the progressive accumulation of soil and is useful for cleaning the ridge.
Bed former: versatility for bed making, weeding and preparation for uprooting.
The offer of Oliver Agro bed formers
Oliver Agro has over 20 years of knowledge of the production of agricultural machinery in fruit trees nursery. The BXC bed formers, the TXC seedling uprooting machine and the SXC brushing machine have been designed for an ultra-specific supply chain, related to motherplants or wild rootstocks.
BXC Bed former: technical specifications
Bed former BXC's main functions proposed by Oliver Agro company are: progressive creation of ridge for the motherplant, cleaning of backsides of bed and its earthing up. To obtain these results, the machine is equipped with plowshares that convoy soil to the center. At the same time, the two rotating cochleae carry out three distinct operations: their angle is modeling the bed's desired shape, push the soil ground towards the top from the sides, obliging the roots to be straight. When inverted their rotation, they push 2 cm of soil down as weeds' removal. Once the cycle has been completed, the bed former, reversing the plowshares' direction, works as a remover, to facilitate the cutting of the rootstocks with the TXC uprooting machine.
Why choose an Oliver Agro bed former
If you are looking for machinery for bed forming that creates the ridge, cleanses the ground and for digging out, the Oliver Argo bed formers are what you need. They allow the progressive accumulation of soil and are useful for cleaning the ridge.
And in addition to multi-purpose machines, the company is able to offer you an after-sales service, such as assistance with spare parts' supply.

CATÁLOGO EN ESPAÑOL