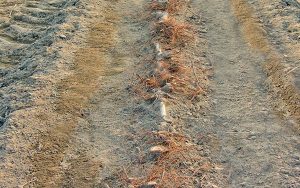 Brush machine for cleaning stumps.
Technical Features
– 2 adjustable brushes diameter 400 × 600 cm, driven by 2 hydraulic motors connected to the tractor hydraulic outlets, supported by 2 adjustable rear wheels for perfect cleaning of stumps.
– Speed: according to customer's need for cleaning and depending on soil type.
– HP: 50-60
– Operator no. 1 tractor driver
The same machine can have an autonomous system for handling the speed of the brushes and rear hydraulic jacks.
The result after the cut the stumps and brushing .
Cleaning will prevent the formation of mold and rot around the mother plant which appears to be clean and healthy.