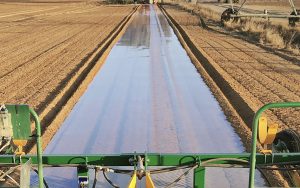 The Gluing and layer machine for barrier film is a trailed machine that, thanks to its applications, performs
– the laying of barrier film
– the film for solarization
– mulching
Mulching Film Layer
It guarantees excellent results in sealing the soil, thanks to a precise laying of the nylon film.
A machine, multiple functions: find the mulching film layer most suitable for you
Who works in farming knows this well: it is not always easy to find machinery that are in line with the current regulations concerning fumigation. This is why we decided to create the mulching machine, our MULCHING FILM LAYER that improves the solarization process by sealing the fumigant product below the protective film.
Why buy the Mulching Film Layer machine from Oliver Agro
Oliver Agro company's Mulching Film Layer is a mulching machine, used to uniformly spread the protective film, in particular TIF or VIF, sealing it with a special glue to avoid dispersion of fumigating product in the atmosphere. Thanks to the Oliver Agro Mulching Film Layer, it will be possible to obtain an hermetic seal and the consequent solarization, which also acts as a herbicide.
If you have not yet decided which model of mulching machine buy or if you want to know the different configurations, contact us: we will be happy to answer all your questions and find the most suitable solution. Our staff is at your complete disposal!