ROTOSARK, A 3-IN-1 WEEDING MACHINE: MECHANICAL WEED REMOVER, CRUST BREAKER AND HILLER
Rotosark weeding machine with fixed, shifting, or folding frame; modular with one or more parallelograms that work on sown or transplanted rows.
OUR ELEMENTS
The elements consist of a parallelogram with parallel bars, a crank-operated variable-load spring, and a strut with 3 slots for various tools and accessories, such as surface-breaking hoes, a pair of opposing steel Rotoblizz /Rotoclean rotors with sealed bearing, a pair of rear swallow-tailed hoes for working in between the rows, or accessories such as the Rotodisk kit or the pair of deflectors for earthing up plants. The two opposing rotors straddle the cultivated row, guaranteeing constant pressure and yielding greater precision and proximity than in an inter-row parallelogram, where uneven terrain can exacerbate drift due to excessive steering.
The configuration of the parallelogram allows for vertical movement perpendicular to the ground, acting directly on the pair of rotors. Positioned thus, the rotors act as a level, making a support wheel unnecessary.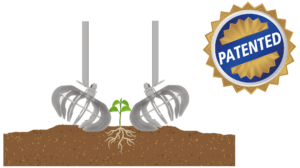 Rotoblizz weeding system works directly on the transplant row without damaging the root and leaf system, uprooting the weeds and thus reducing the need for chemical herbicides.
Rotoblizz rotors, rotating opposite each other at an angle of 28°, work the soil by breaking it down-usually to a depth of 3 or 4 cm. Because of their round shape and curvature, they do not disturb the plant's root system, whether bare root or sod. The rotor blades are 3 cm thick, and as they rotate, they push the surface crust of the soil reciprocally. This causes the crust to break even between plants, eliminating and or blocking weed germination.
The effect of rotation and soil breakdown is what allows us to get the most benefit in combating weed growth.
Technical information on our Rotoblizz Rotors:

DIAMETER

30 cm

35 cm

40 cm

INTER ROW DISTANCE

40-45 cm

50-60 cm

> 60 cm

USABLE WORKING
SURFACE AREA
FROM THE PLANT

12 cm

14 cm

16 cm

DISTANCE FRM PLANT
At 2 cm from plant
Inter-row weeding machine ROTOSARK suitable for transplanted or direct-seeded crops such as organic or transitioning crops including corn, soybeans, industrial tomatoes, potatoes, rapeseed, sugar beets, lettuce, radicchio, invidia, cabbage, broccoli, cauliflower, garlic, leeks, beans, peanuts, chickpeas, lentils, broad beans and peas, pumpkins, vine plants, nursery rootstocks, fennel, strawberries, tobacco, and medicinal herbs.