ROTOVERT, A 3-IN-1 WEEDING MACHINE: MECHANICAL WEED REMOVER, CRUST BREAKER
Rotovert weeding machine with fixed, shifting, or folding frame; modular with one or more parallelograms that work on sown or transplanted rows.
OUR ELEMENT
The elements consist of a parallelogram with parallel bars, a crank-operated variable-load spring, and a strut with 3 slots for various tools and accessories, such as surface-breaking hoes or the Colibrì disc kit, a pair of opposing steel Rotovert with sealed bearing, a pair of rear swallow-tailed hoes for working in between the rows, or accessories such the pair of deflectors for earthing up plants. The two opposing rotors straddle the cultivated row, guaranteeing constant pressure and yielding greater precision and proximity than in an inter-row parallelogram, where uneven terrain can exacerbate drift due to excessive steering.
The configuration of the parallelogram allows for vertical movement perpendicular to the ground, acting directly on the pair of rotors. Positioned thus, the rotors act as a level, making a support wheel unnecessary.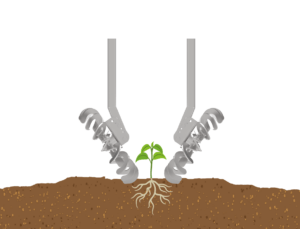 Rotovert rotors, that is, vertical rotors, act like Rotoblizz rotors, but can be used on narrower inter-row spaces due to their shaped profile: 13–45 cm.
Rotating counter to each other at the same depth of 2–3 cm, they keep the plant straight, pushing the top of the soil towards the centre of the row and breaking it into pieces. In the meantime, the blades rotate to move weed sprouts or the weeds themselves outwards.
They are made of steel and have an inclination that is adjustable in 5 positions from 67° to 42° towards the plant. They rotate due to a sealed bearing and are welded with curved blades with a width of 3 cm.
Usable working surface area from the plant 4,5-5,5 cm.
Weeding with Rotovert Rotors is suitable for transplanted and sown crops in line and on trunk (for example: lettuce, onions, transplanted onions, garlic, carrots, basil, spinach, arugula, broccoli, and others)