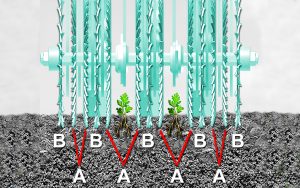 The Colibrì application acts directly on the transplant line without damaging the root and leaf apparatus, uprooting the weeds and thus reducing the need for chemical herbicides.
– Made up of packs of toothed disks;
A) Teeth inclined in the opposite direction to the plant, protect the plant by compressing the soil outwards.
B) Sawtooth tilted teeth, arranged in the spaces not occupied by the seedlings, they perform the cleaning of the weeds.
– The teeth penetrate 2/3 cm into the ground, preserving the collar of the plant;
– We can work 10 days from planting.