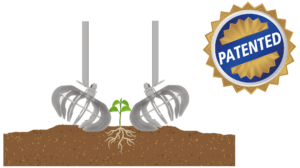 Rotoblizz weeding system works directly on the transplant row without damaging the root and leaf system, uprooting the weeds and thus reducing the need for chemical herbicides.
They are composed by:
–N°2 opposed Rotors, with curved blades;
-Inclinated 28°  in the direction of the plant;
-Penetrate up to 4 cm in the soil, eliminating the germination of weeds;
-We can work 7 days after transplantation and 10 days from planting.
Technical information on our Rotoblizz Rotors:

DIAMETER

30 cm

35 cm

40 cm

INTER ROW DISTANCE

40-45 cm

50-60 cm

> 60 cm

USABLE WORKING
SURFACE AREA
FROM THE PLANT

12 cm

14 cm

16 cm

DISTANCE FRM PLANT
At 2 cm from plant
self propelled Elfurbo with Inter-row weeding equipment ROTOSARK suitable for transplanted or direct-seeded crops such as organic or transitioning crops including  processing tomatoes, potatoes, rapeseed, sugar beets, lettuce, radicchio, invidia, cabbage, broccoli, cauliflower, garlic, leeks, beans, peanuts, chickpeas, lentils, broad beans and peas, pumpkins, vine plants, nursery rootstocks, fennel, strawberries,  and medicinal herbs.