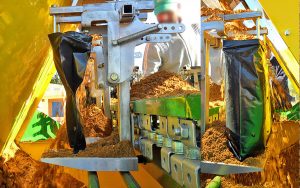 Is a machine studied to optimize at its best the soil filling of nylon bags for nursery.
The SOIL BAGGER innovative technology increases Productivity.
Functioning principles
1)  Soil loading
2)  Soil supplyng conveyor belt
3)  Soil collecting conveyor belt
4)  Conveyors to the soil bags
5)  Bags carryng catenary with 11 positions
6)  Bags
Technical characteristics
Bag dimensions:
Ø 150 x400 cm / 9 Kg  (from 1 to 8/9 Kg)
Hopper capacity
900 LT
Characteristics
– Double  chain  with  double  pinion for better stability;
– 11 stainless steel workspaces for the loading and the unloading of the plastic bags;
– double  soil  output  to  have  2  working teams at the same time;
– timer for conveyor belts, for the chain;
– shakers: 1 for the chain and 1 for each output.
Dimensions:
4,00 x 2,10 x 2,50 m
Weight:
650 KG
Parking and moving
2 fixed wheels and 2 steering wheels
Voltage
380v
Cable
4m included
Performance
Human resources:           – 2 to load,
– 2 to unload,
– 2 to transplant the plants into the plastic bags
– 1 operator to bring the soil to the dispensing hopper
Efficiency:                    
Till  19.200  transplanted and ready to be sold plastic bags per day
Possible solutions: 
Timer                                12 sec
Plastic bags:                    da 9 Kg
Performance:         :        4.800 plastic bags
Assigned:
N°1 to load;
N°1 to unload;
N°1 assigned to supply the soil to the tank .
Timer:                              6 sec
Plastic bags:                               da 9 Kg
Performance:                   9600 sacchetti
Timer:                              5 sec
Plastic bags:                     da 9 Kg
Performance:                   11.520 sacchetti
Assigned:
N°4  assigned to plastic bags management: 2 to load and 2 to unload
N°2 to unload;
N° 1 assigned to  supply the soil to the tank (every 8') (ogni 8')
Tmer:                               4 sec
Plastic bags:                    da 9 Kg
Performance:                  14.440 sacchetti
Timer:                              3 sec
Plastic bags                     da 9 Kg
Performance:                  19.200 sacchetti