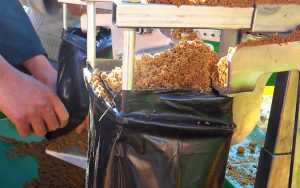 Soil Bagger
Packing bags of soil for the nursery has never been so simple!
Soil bagger machine: a high productivity machine
Thanks to the innovative Soilbagger technology, Oliveragro has optimized the packaging of nylon soil bags for nurseries, for large productions.
Suitable for bagging soil, compost, humus, peat and various substrates.
Soil bagger machine part of Oliver Agro wide range of products for plant nursery
Having an experience in the agricultural machinery sector of over 40 years is certainly not for everyone, as is not the innovative offer. Used in the plant nursery, Oliver Agro's machinery also includes machines such as bagging machines, filling bags or phyto-cells of various sizes with soil, compost, humus, peat.
How Oliver Agro Soil bagger machine works
Equipped with wheels, it can be parked anywhere. A hopper contains the soil which will be carried by 01 large horizontal conveyor to the another vertical one. This last will drop the soil into 02 outlets each, which pour the soil into the bags. The bags are on a chain with 10 stations which are moved by an electric motor. Each station will stop while the operators will unload the filled bags and load the empty ones. A simple job with results, in terms of yield and quantity, never seen before, given the need to support bags rather than jars.
Accessories and assistance for Oliver Agro Soil bagger machines
Oliver Agro is ready to offer after-sales services that help customers make the best use of the purchased machinery. Contact our professional team for more information on new accessories and technologies or just for assistance.