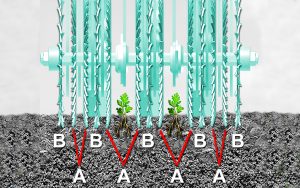 Colibrì is our inter-row weeding machine with row distances starting from 4.50 cm: it acts 2 cm from the sown row without damaging the root and leaf system, eradicating weeds and the germination of new ones. It is particularly suitable for crops such as carrot, fresh-cut products, valeriana, sown rice, parsley, basil, rocket, spinach, red chard, radish, spinach on a flat soil or on a bed.
Our "COLIBRI'":
is a delicate crust breaker with a depth ranging from 2.5-3 cm, because of his active weeding (the discs rotate clockwise at an adjustable speed);
does not move the plants carrying  block of soil, it is very precise.
works from the early stages of plant growth, 10 days after sowing;
suitable for organic cultivation.
Original and unique:
precise;
Revolutionary and inimitable;
Flexible, with multiple configurations;
Practical;
Walking speed from 0.8 to 2.5 km / h on carrot and baby leaf;
The machine is made up of a hydraulic shifting frame, with one or more motorized parallelograms containing the appropriate weeding discs configuration: depending on the machine configuration, we can apply the sensors to keep each parallelogram working depth constant and the automatic double camera for controlling the frame shifting.
The parallelogram consists of bundles of toothed steel weeding disks, with the following characteristics:
A) inclined Teeth in the opposite direction to the plant: protect the plant by compressing the soil outwards.
B) Inclined sawtooth teeth, arranged in the spaces not occupied by the seedlings, dig the germination and the weeds away.
Weeding discs work up to 2 cm from the rows at an adjustable depth equal to and no greater than 3 cm, preserving the collar of the plant.
It works on all crops in narrow rows with inter-row distance of the bins (L1) from 4.5 to 35 cm.
Combination of groups of discs developed on the basis of the size of the drawing provided by the customer.