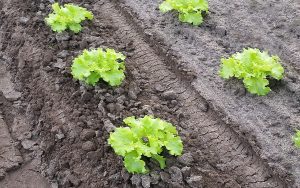 Optyma 2.0 is our inter-row and inter-plant weeding and hoeing automatic machine with spacing starting from 17 cm between rows. This cutting-edge device boasts a remarkable user-friendly interface, incorporating a sophisticated plant recognition system utilizing fiber optic sensors. With the aid of Optyma, we achieve meticulous inter-row and inter-plant weeding operations, eliminating the need for repetitive passes over the same section.
• Practical and reliable;
• Flexible, with multiple configurations;
• Anti-weed agent;
• It increases aeration of the plant root system;
• Crust breaker
• Average working speed 1.2 to 1.5 km/h;
• Minimum row spacing 17 cm, minimum interplant distance 15 cm.
• Active weeding to a depth of 2/3 cm.
It is designed to work specifically on head and leafy vegetables such as: lettuce, radicchio, broccoli, cauliflower, hemp, chard, transplanted onion on any transplanted or sown crop on beds or flat.
Requirements: soil preparation using a bed former or stone burier accompanied by a smooth roller for compacting and leveling the soil, including during the transplanting/seeding process.
It is designed to primarily operate during the early vegetative stage to prevent weed infestation. The machine's design allows for intervention as early as 10 days after crop transplantation, ensuring thorough cleaning, even in the inter-row space.