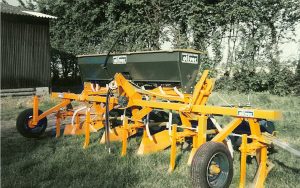 The Ridger Mod. 90  is the specific attachment for creating a furrow in previously tilled soil, opening small drainage ditches and reinforcing row crops. Before the transplanting, distribution of ferltilizer or micro granular insecticide.
It is also equipped to perform a series of operations after transplanting: to re-soil the soil, to break up the clods of soil near the plant so that it can breathe better.
The furrow disc plough for the tobacco farming
Oliver Agro's expertise in agricultural machinery
Oliver Agro is a company that for over 40 years has been dealing with design and construction of agricultural machinery in organic farming, horticulture, plant nursery and tobacco farming. The furrow disc plough machines are required for multiple processing needs and are a combination of experience and knowledge of the design team. These technologies are significantly important for Oliver Agro, which makes interchangeable and multi-purpose a useful machine to reduce unnecessary steps.
Use of a furrow disc plough
Also used in tobacco farming, furrow disc plough is used for preparation of ridges of soil, distributing of fertilizers or insecticides and hoeing. Sometimes, the presence of special dedicated accessories allows the furrow disc plough use in other agricultural processes, such as crust beaker or in preparation for transplanting or earthing up after hoeing.
Quality and ongoing assistance at your service in the agricultural sector
In choosing a good furrow disc plough for your agricultural business, you can rely on the catalog proposed by Oliver Agro. Choosing our company for the purchase of a new machine, you do not only choose a high-quality product with multiple functions. After the sale, we will be at your disposal to get the best result, using it. This is followed by assistance, spare parts' supply and any information on news.