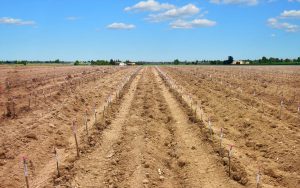 The SD Superdrive Transplanter is a machine designed for transplanting: roostock, vineyards, vitro cultures, plants in pots, lavander
Trailed type, performs a constant and precise arrangement of the plants, regardless of the speed of the tractor, thanks to an autonomous system of movements, synchronized.
Reliable rootstocks transplanting machine
Oliver Agro has a reputation for providing high quality agricultural machinery across Europe, America, Asia, Africa and Australia. This machinery includes both the rootstocks transplanting machine and the high plant transplanting machine.
Choosing the best transplanting machine
You need to be able to carry out rootstocks transplanting in a precise and efficient manner. The SD Superdrive Transplanter machine from Oliver Agro enables you to do this. It's a transplanting machine you can trust and you can use it for rootstocks, vine-cuttings, lavender, vineyard, roses, tissue culture, bare roots plants or plant with little pot.. The machine is designed to perform precise actions as it operates with complete synchronization. This means that you get the best results you are looking for, even if sometimes soil conditions are unproper.
Get expert help with transplanting rootstocks
Transplanting rootstocks is a task that needs to be carried out with great precision and attention to detail. This is why you need to use a rootstock transplanting machine that you can rely on. Contact Oliver Agro about your rootstocks transplanting requirements and we will be happy to answer any of your questions and provide you with the information that you need.